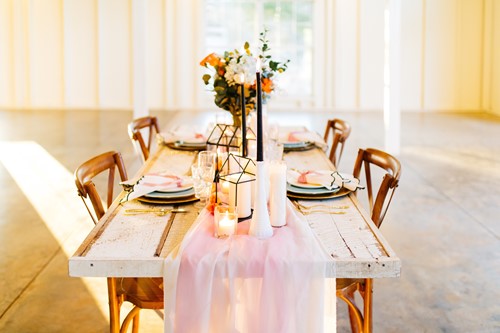 In many homes, the dining table is the ideal get-together spot to share a meal, hold gatherings and talk about important topics. However, it's not only for eating, clinking glasses or having family discussions. It's one of the focal points of your house and should be carefully considered. If you're interested in buying a dining table, you'll probably want to buy it to last, to compliment your home's decor and only have to buy it once. Here is a guide on how to choose the best dining table material for your home.
Choosing Materials
Sturdy Wood
The ideal dining table is one that can last through years of wear and tear. A traditional dining table made from hardwood will take what you dish out. The best hardwood tables to go for are walnut, oak, mahogany or maple. Make sure that the hardwood is solid and from a reputable manufacturer to ensure its strength and durability. If hardwood isn't your favorite option but you still want a solid table with a nice, wood finish, try composite wood. These tables are engineered from different, sturdy materials and are very economical.
Glass
Though wood remains at the top of the list, glass dining tables are also a popular choice, especially if you're looking for a sleek or minimalist design. One of the unique advantages glass has is that it can blend seamlessly with many home decor themes. Additionally, it makes the room appear larger, lighter and brighter.
Marble or Granite
If you're looking to impress your guests, a marble or granite dining table may be worth looking into. Natural stone has an irresistible and timeless appeal. They're also incredibly sturdy. However, they still have their downsides such as weight, cost and upkeep. If you decide to go with a natural stone table, remember marble can stain easily and granite requires annual treatment with sealants.
Choosing the shape
One of the advantages of a round table is its ability to fit into any room, be it a small nook, large dining room, or a part of the living room designated as the eating area. They offer flexible seating for conversation; an attribute many other dining tables lack. Likewise, a long, wooden, trestle table allows for guests to sit across from each other for friendly conversation and may still give you that classic, traditional rectangle. Finally, the ever-popular pub table adds ambiance to your space with a modern yet vintage appeal.
Finding Your Color
Just because your table may be natural hardwood doesn't mean it can't have a splash of color. Chalk paint finishes on wooden, farmhouse tables might be just the look to tie your spaces together. You can also stain your wood in a dark finish to give it a dramatic glow. Glass tables come in colored or frosted glass, giving you the option to stick with a clear surface or add a little color to your dining area. Marble and granite range from pale off-whites to deep red or black hues. Whatever your choice may be, be sure to let the colors accentuate your interior decor.
Getting a dining table might seem like a daunting task, but with these tips, you will be able to choose one that serves the exact purpose you envision. If you don't have space for the table of your dreams, let me know, so I can make a larger dining area one of our priorities during your home search.